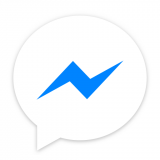 Description of Messenger Lite
Enjoy the Messenger app without having to use much of your phone's storage.

Messenger Lite was created to bring you all the features that the original Messenger app has, without taking up so much storage space from your phone and therefore allowing you to use your storage to keep other important things such as photos or documents.

Now you can reach all the people in your life for free, with this app which not only is lighter as it is also faster, uses less data and works no matter the network conditions you are experiencing at any moment. As a lighter app, Messenger Lite won't take almost any time to be downloaded so go ahead and hit the download button now!

Long are the days of having to have exceptional internet connection to load texts, photos or links to send to someone on Messenger. With Messenger Lite you can send them faster as the app makes them load faster and available to anyone who owns Messenger, Messenger Lite or Facebook Lite.

Messenger Lite also uses less data, so it is a more efficient way to connect with those you love as well as a cheaper way as you won't be using all your data. The app was designed for 2G networks and areas with slower internet connections, so you can be accessible anywhere you go, even if the internet is unstable or has a weaker signal.

To start connecting with your friends and family in a more efficient and simple manner, download Messenger Lite now.

Good App Guaranteed
This app passed the security test for virus, malware and other malicious attacks and doesn't contain any threats.
APK Information - Messenger Lite
APK Version
82.0.0.4.119
Android compatability
Android 4.0.1 - 4.0.2+ (Ice Cream Sandwich)
Developer
Privacy Policy
Permissions